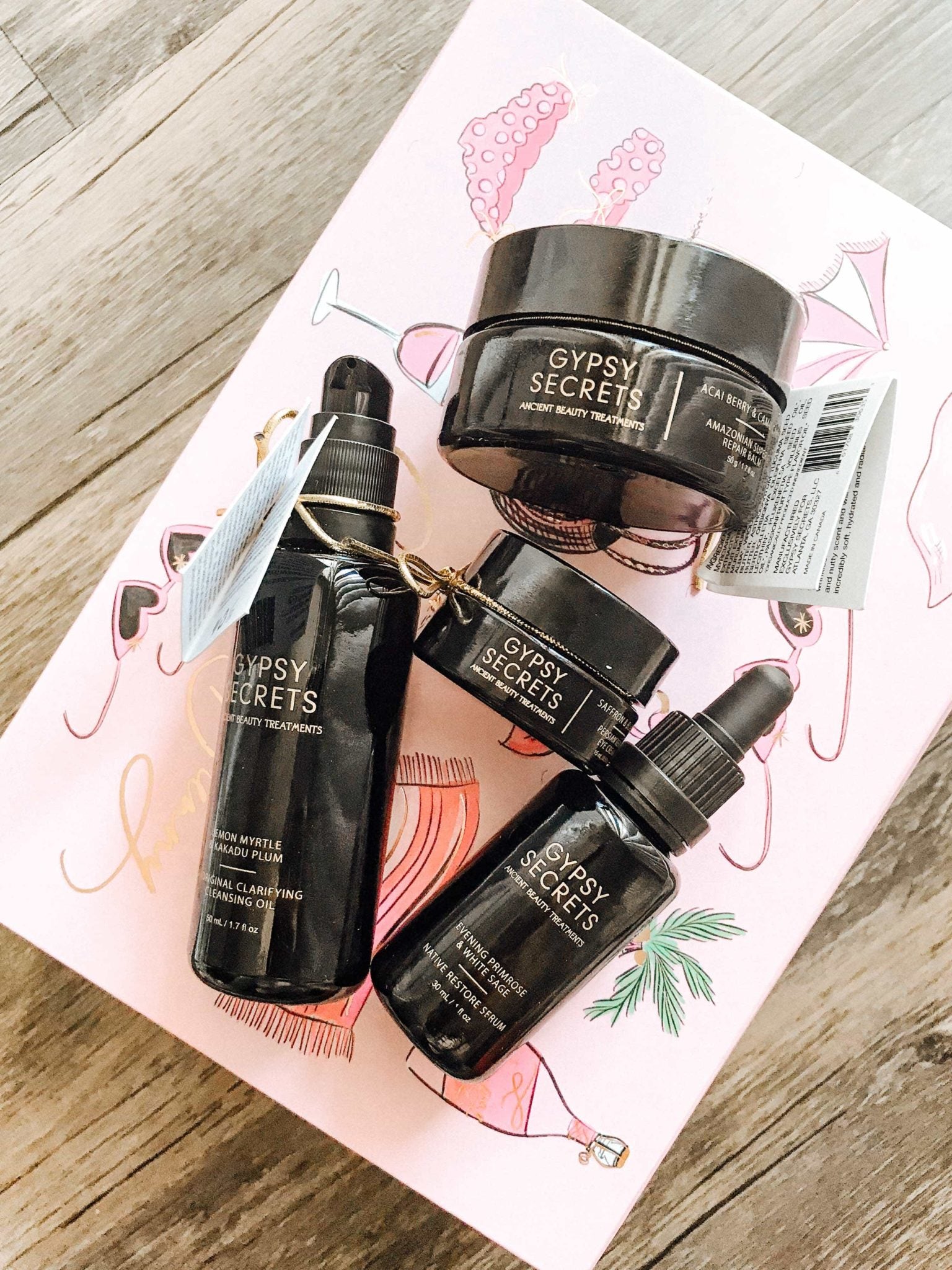 If you've been around here for awhile, you know how long it took me to establish a good skincare routine. Since, I pretty much have mine nailed down now, I get SO hesitant to try any other brands. A majority of the time when skincare brands reach out to me, I say "thanks, but I already have a good skincare routine". After Sherry of Gypsy Secrets, an organic/cruelty free skincare line, reached out to me, I responded to her with the same email I've sent dozens of others "Thanks for the interest, but I already have a skincare routine that's taken me years to figure out". They were super nice and said they simply just wanted me to test it out and see the effectiveness of what they created. That made me wanna try it even more because there's too many brands that want a positive review whether you like it or not.
That being said…I decided to try it out. My original skincare routine has been out of whack because the Kypris Antioxidant dew I typically use (for hydration and dry patches) has been out of stock for a month and they aren't sure when they'll have it again. It was perfect timing. I've tried a lot of natural/simple types of skincare such as rose water toner, oil cleansing, under eye coconut oil sticks, etc. but none were effective or science-based enough to actually work for me. I have intense redness, dryness, and occasional hormonal acne, so if I support something…I 100% have tried it and loved it. There's been several lines that I've hated and therefore you will never see me post about them no matter how many other bloggers do. Everyone skin is different, and can change every year by things such as hormones, moving to a different climate, or just because your skin decided to say F it.
So what do I think of Gypsy Secrets??? I LOVE this stuff. I have sensitive skin, and this has been a dream for it. At first, I thought it was a little expensive, but after looking at the ingredients and seeing the effectiveness of it first hand- I will continue to purchase my favorite products from her line. A little goes a long way. You'll see in the picture below- that was after a full week of using!
During this time, I quit using my other skincare, minus the toner and cleanser and ONLY used this for my moisturizer, hydrated, clearing serum, and eye cream.

These are my favorites:
Persian Renew Eye Cream: I use this in the AM. Storing it in the fridge increases effectiveness. It reduces puffiness and firms the skin around my eyes, because it contains hyaluronic acid and marine collagen peptides to decrease fine lines.
Native Restore Serum: I adore this stuff and it smells like you're getting a spa treatment! I use it in the AM/PM after cleansing and toning. This serum contains 17 potent botanical oils to help cleanse, clear, and calm the skin. If you've followed along on stories the last week, you'll see that it has helped greatly with my redness. The serum balances the skin while not only moisturizing but also hydrating. The common mistake people make with dry skin, is over moisturizing, when really they need hydration. This blew my mind when I found out. And drinking water can help, but honey…I drink a TON of water and my skin was still drier than the Sahara desert. The Restore Serum would be #1 on my list.
Amazonian Super C Repair Balm: I use this every morning and evening after the restore serum. In the morning just make sure you use a tiny bit of each, especially if you wear makeup. I scoop out the tiniest bit and rub it all over my face. It's full of essential fatty acids, antioxidants, and Vitamin C. The balm functions as a moisturizer and is perfect for drier skin. My skin feels so soft after I put this on. I even use it for dry spots on my body, or on top of my tattoos.
xx -♡Kait