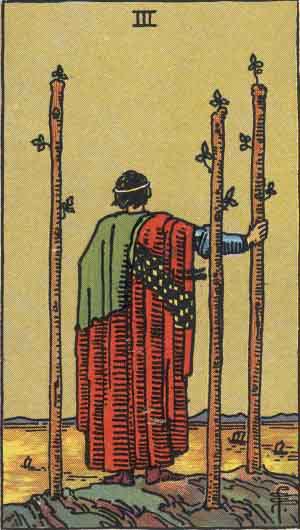 Symbolism
The Three of Wands depicts a man in red and green robes standing on a cliff with his back turned. Three wands stand firmly planted in the ground, reflecting his commitment to his plans. He has left the comfort of the castle in the Two of Wands and is now in a vast open space, looking out over the sea to distant mountains. He watches three sailing ships pass by, symbolic of movement and progression. From his high vantage point, he can see all that lies ahead, including any upcoming challenges and opportunities.
Meanings
While the Two of Wands speaks to planning for the future from a place of safety and comfort, the Three of Wands shows that your plans are now well underway and you are considering even more opportunities to expand your current strategy and maximize your ultimate potential. Everything is progressing steadily and as expected, thanks to your solid preparation and ongoing drive.
The Three of Wands signals the many chances available to you to broaden your horizons through study, travel, business enterprise and learning. You are becoming more aware of the opportunities that exist for you right now – and there are still more to come. To take advantage of this potential, you must stay committed to your path and be prepared to stretch beyond your comfort zone, knowing your best hopes lie outside of your current environment. It is time to think BIG. Consider what you can to open doors to more development and self-exploration. This card encourages you to dream bigger than your limitations. Accept your vision and be confident you will achieve it.
The Three of Wands also brings your attention to the changes and challenges that lie ahead. Given the man in this card can see far into the distance, then you are likely to be already aware of the upcoming developments and obstacles and can prepare for them ahead of time.
Given the image of land and sea, the Three of Wands can sometimes point to travel, especially overseas or over a body of water. It encourages you to be adventurous and venture to unknown places to discover more about yourself and learn many new things along the way. You may also explore international job opportunities.