By: Hernando Courtright
Senior Event Contributor and Brand Ambassador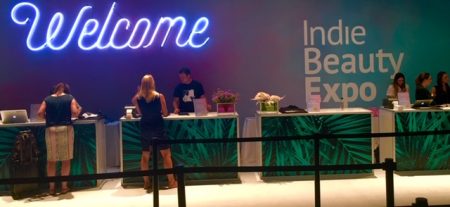 New York Indie Beauty Expo 2019
Indie Beauty Expo NY 2019 returned to NYC for its fifth year, on August 21-22.  Much has transpired since the inaugural Expo was launched by Jillian Wright, Founder, and CEO. From venues, the number of brands, and to the multiple cities, it has expanded to Berlin, Dallas, London, and Los Angeles. This year New York Indie Beauty Expo 2019 was held at Pier 94 where all 133,000 sqft of space was used to showcase over 250 brands. The major take away was not so much a trend but a movement, which was women's sexual health and wellness. A trend that seems an obvious extension of beauty is oral care. I saw a few companies drilling in this space and I chose one of them to highlight here. Like last year, the majority of brands are owned and operated by impressively passionate women entrepreneurs.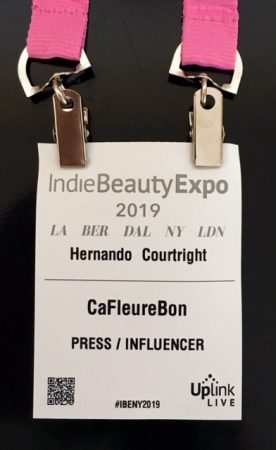 Hernando's New York Indie Beauty Expo 2019 Badge
I sensed fewer international brands at New York Indie Beauty Expo 2019. Many new brands showing  and a number of them were founded in the last two years if not sooner (some launching at the show. Brave!). Returning of note  that I featured last year was Velvette and Little Moon Company.
Like the recent NY NOW Expo, hemp, weed, cannabis, marijuana (CBD) was fully integrated into all products across the spectrum. Also, all brands appear to be either natural, organic, vegan, allergy-free, sustainable or biodynamic.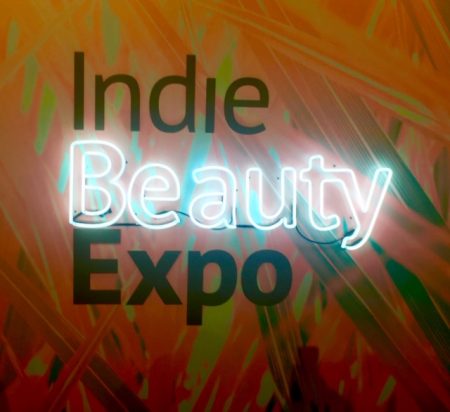 New additions to New York Indie Beauty Expo 2019 are Beauty X, an industry conference providing entrepreneurial learning opportunities, UpLink, a directory that helps match beauty entrepreneurs with solution providers, and UpLink Live, an event for brands to find specialists and make these connections in-person. I stopped by briefly and met with one company that impressed, 3rd Party Logistics Group, an innovator in the supply chain process with over fifteen plus year exclusively focusing on beauty brands.
It's hard to meet all the brands due to the sheer size and time constraints (I was there close to five hours). So let's go and meet some of these very impressive and passionate brand owners.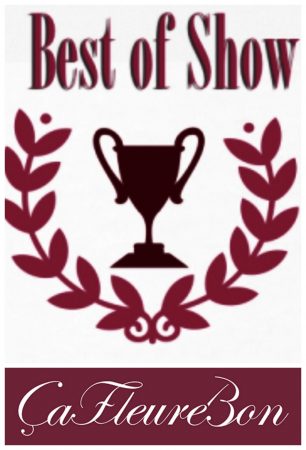 The following is our "Best in Show New York Indie Beauty Expo 2019.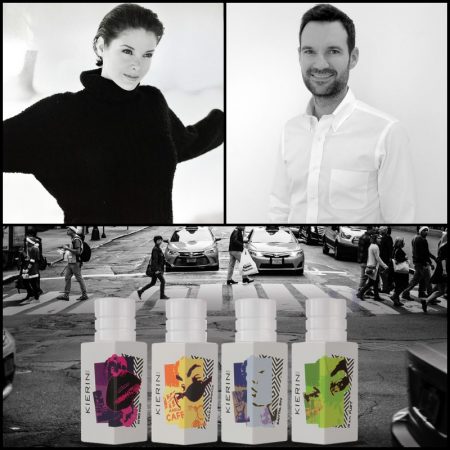 Mona Maine de Biran  and perfumer Mathieu Nardin, KIEREN NYC (collage by Michelyn)
NYC based KIEREN NYC's founder Mona Maine de Biran was holding court when I located the booth. We met last April and I instantly liked the brand. Mona told me, "Equality and inclusivity are core to our brand and not just presented as an afterthought." The house is committed to scents that are clean, cruelty-free and vegan and only use ingredients formulated without sulfates, parabens, phthalates, and formaldehyde." KIERIN NYC embodies the modern spirit of New York City lifestyle which celebrates diversity..  You can read Despina's review of Sunday Brunch here.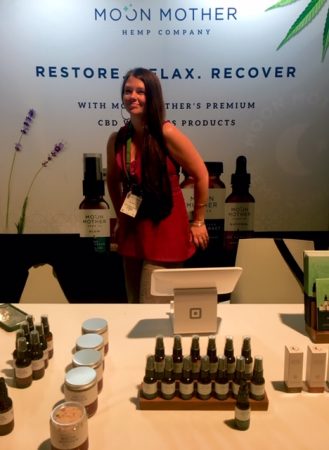 Jessica Bates of MOON MOTHER HEMP Company  at New York Indie Beauty Expo 2019
Colorado's MOON MOTHER HEMP COMPANY  only uses the highest quality and purest CBD and are USDA certified. Founder Jessica Bates mentioned that only organic hemp grown in Boulder (ground zero!) is used and they oversee each stage of growth and production from seed to sale. Their range includes Face, Skin, and Muscle balm, Pet Care, and Wise Women Ritual Bath and Comfort Balm (for your moon time).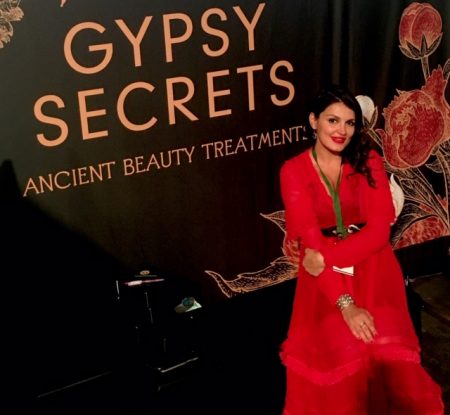 Gypsy Secrets Sherry Bathaei Jones Chief Alchemist New York Indie Beauty Expo 2019
The Atlanta, GA based Gypsy Secrets booth was quite captivating with its visual presentations. Sherry Jones, Chief Alchemist's brand combines her love of natural living, world cultures, ancient history, and sustainability. Their holistic skincare solutions are natural and organic, cruelty-free, sustainably-sourced, environmentally-friendly, and free of toxins, parabens, and harmful chemical preservatives. USDA Certified Organic and vegan formulas are also available. A member of 1% for the Planet, they donate 1% of their annual gross revenue to grassroots environmental organizations dedicated to protecting our planet. Love it!
Bija Essence Evelyn Subramaniam Founder
New York-based BIJA ESSENCE is a new line of four therapeutic, all-natural essential oil blends handcrafted by Founder Evelyn Subramaniam. The brand combines the powers of human touch, aromatherapy, and Ayurvedic science for one's personal wellbeing as well as for their loved ones. The line includes anti-aging, soothing, and healing. Hand massages were provided by BIJA to all. I took advantage of the kind offer. Evelyn and I bonded over our Mexican heritage while receiving mine.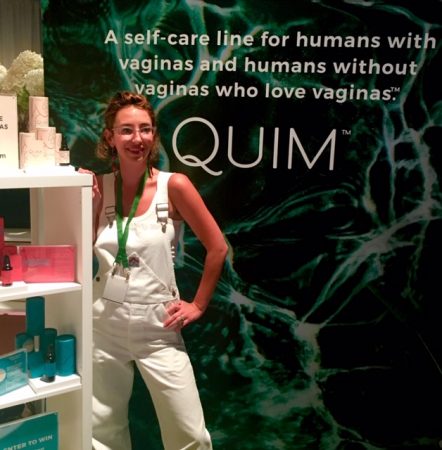 Quim Cyo Ray Nystrom CEO + Co-Founder
San Francisco based Cyo Ray Nystrom, CEO and co-founder of Quim, explained to me that QUIM makes THC and CBD infused products using all-natural ingredients that support vaginal health and wellness. Their mission is creating products that deepen the connection you have with your own body and empower you to care for it. The range includes Happy Clam Everday Oil, Night Moves Intimate Oil, Oh Yes! Latex-Safe and Serum, and Smooth Operator.  QUIM won "audience favorite" at the Beauty X competition.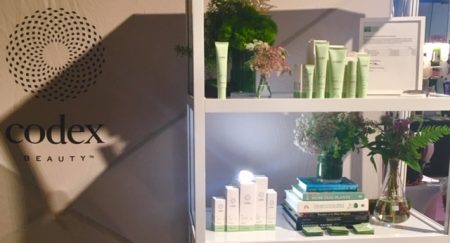 Codex
Codex, the USA based company's Bia Collection delves into the untapped potential of indigenous Irish botanicals and cutting-edge, green technology. The skincare line is culled from vigorous skin-enhancing properties derived from native Irish plants, seaweed, evergreen herbs, and wildflowers. With a responsibility toward natural conservancy, they integrate environmental practices and sustainability principles into the mission.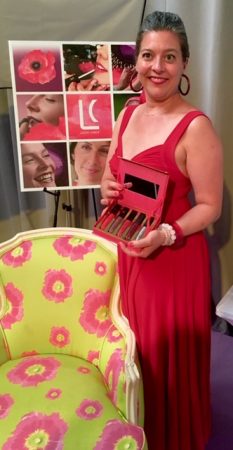 Lucky Chick Stephanie Miklosvary Founder
Stephanie Miklosvary, the Founder of Lucky Chick formulates the New York state-based products with safe ingredients, free of parabens, mineral oil, phthalates, triclosan, sulfates, and gluten. The facial line is cruelty-free and uses vegan color punched color products that include high-shine Lip Lacquers, matching creamy Matte Lipsticks and Glazes and Liquid Jewel eye shadows. They are infused with coffee, rose, jojoba oil, and cucumber extracts to soothe and hydrate your skin. Gorgeous and good for you!
Tonia Walker Director of IME Natural Perfume
Mona of Kieren NYC showed fragrance camaraderie when she escorted me over to the IME booth and personally introduced me to Tonia Walker, Director of the brand. Hailing from Down Under (this time Australia) IME Natural Perfume is an officially certified 100% Natural by the Natural Perfumers Guild (NPG). The line is based on the nine muses of Greek Mythology. Take a short quiz on the website and find out which Muse you are.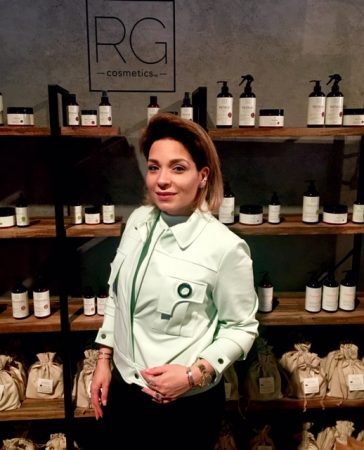 Roberta Gomes Founder & President of RG Cosmetics
Roberta Gomes Founder & President of RG Cosmetics spent a few minutes with me to introduce me to the Miami based RG Cosmetics. Celebrating a decade developing a collection of hair care lines that brings together years of industry knowledge with cutting-edge hair science that makes beautiful, healthy hair a reality using only the best natural ingredients for each type of hair. They are distributed worldwide.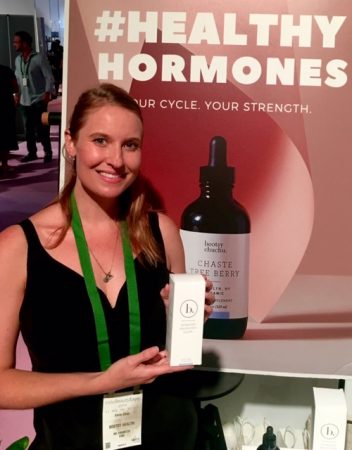 Siena Dixon Co-founder of Healthy Hormones – Bootsy Health
Bootsy Health products are made from natural, plant-based extracts wherever possible, and avoid using alcohol in their liquid products to support a holistic appreciation of menstrual and hormonal health. Siena Dixon founded Brooklyn based Bootsy Health in 2017 to assist women to find answers to their menstrual and hormonal health issues. Siena is a certified natural health consultant and women's health advocate whose career in health and wellness spans over a decade. She co-hosts the popular lifestyle podcast 'And Yet', which focuses on the relationship between culture and health.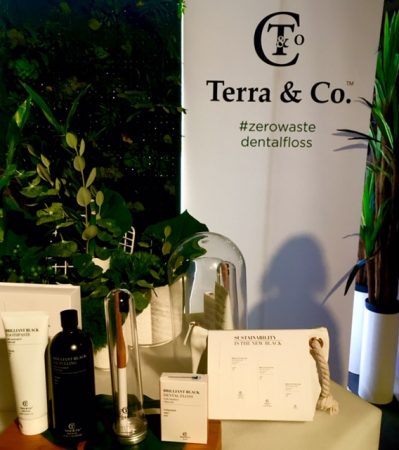 Terra & Co.
Founded in 2017 by two sisters, Amra & Azra Hajdarevic, the LA-based company's mission is to create natural, non-toxic and cruelty-free oral care products. Terra's eco-friendly packaging has Mother Earth in mind. With over two decades of combined experience in the beauty and cosmetics industry having worked with Chanel, Dior, and Bobbi Brown have gotten them featured in Harpers Bazaar, Wall Street Journal, ELLE Magazine, Teen and others.
 Stephanie Schull, Ph.D. Founder & CEO of KEGELBELL
Kegelbell gets your girly bits in the best shape of your life no matter your age.  Stephanie Schull, Ph.D. Founder & CEO of Mesa, AZ Kegebell told me. It was created by women for women to rebuild muscle and take back control of life and all of its pleasures! Kegelbell is FDA-registered, and made of medical-grade silicone.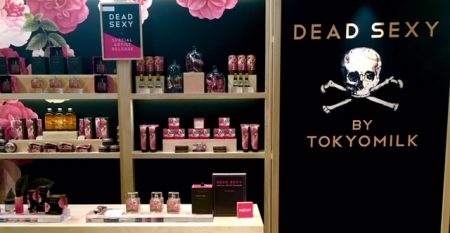 Tokyo Milk
Dead Sexy, the new line from TokyoMilk, launches this Fall. The brand is a division of Denver, Colorado-based Margo Elena's growing fragrance and Cosmetics Empire. Dead Sexy is an exploration of the balance between beauty and power. The CBD Infused Beauty line includes perfume, candles, shower gels, hand crème, and soap. The scent and the packaging are to die for!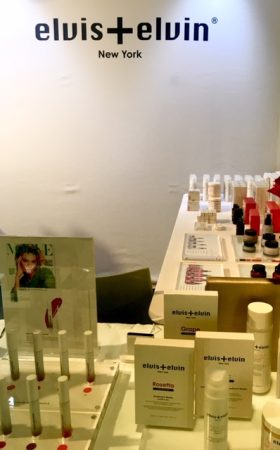 elvis+elvin
In 2014, NYC-based esthetician and herbal medicine expert Victoria Leung founded the luxury beauty brand inspired by her sons, Elvis and Elvin. She found that available skincare products used on her boys irritated their sensitive skin so she developed a line that had a combination of naturally-derived ingredients utilizing cutting-edge skincare technology, formulated to be effective, but delicate enough for the most sensitive skin types. The line includes skincare, haircare, and makeup.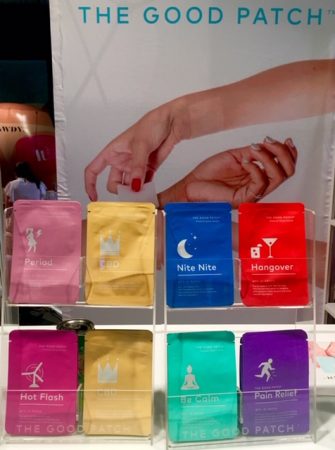 The Good Patch
LA-based The Good Patch offers an array of safe, tested, pure and potent phytocannabinoid products using hemp or plant infused patches. Their CBD comes from industrial hemp and is sourced from the highest quality, organically farmed, non-GMO plants. Their Patches were developed for periods, hangovers, hot flashes, pain relief, PMS, soothe, boost energy, help sleep to name a few. Get your patch on!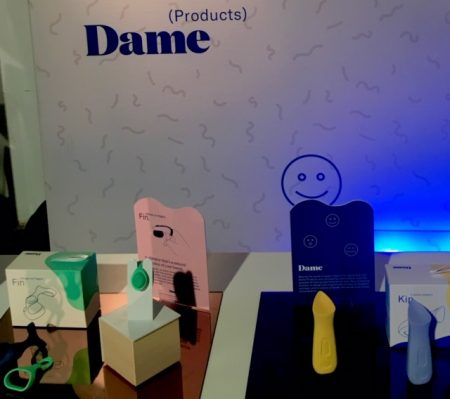 Dame Products at New York Indie Beauty Expo 2019
In 2014, Alex Fine (a credentialed sexologist) and Janet Lieberman (an established engineer and MIT alumna) joined forces to create Dame Products whose mission is to openly empower the sexual experiences of womankind by designing well-engineered sex toys that encourage vulnerability, heighten intimacy, and add value to your pleasure. Since launching the company has received widespread media attention.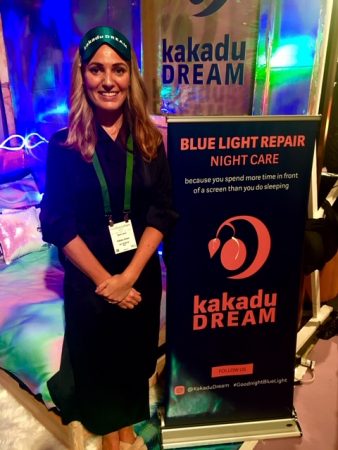 Mandi Vance Founder & CEO of Kakadu Dream
Mandi Vance, beauty industry veteran and Founder & CEO of Kakadu Dream wants to give us all a digital detox. Her company developed a vegan and cruelty-free line to address the damaging effect of blue light by using the native Australian super-fruit Kakadu Plum which has the richest Vitamin C content on earth. It is said to brighten the complexion and reduces hyperpigmentation to protect the skin from on-going daily environmental stress. They officially launched that day.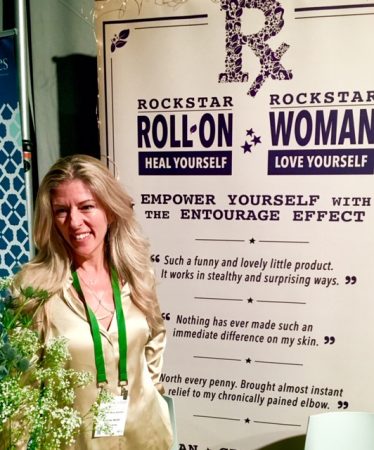 Heather Reilly Hiemstra Founder of Rockstar Roll-On – Heal Yourself Naturally
Heather Reilly Hiemstra and I connected right away. Our former music industry careers led us to making a number of mutual connections. So I asked Heather what is Rockstar RollOn and how is it used? "It is a proprietary blend of super-critical plant extracts and pure, organic botanicals combined in a base of 100% organic jojoba oil. Roll it on anywhere to relieve skin redness, irritation, breakouts, cold sores and it prevents skin damage from bites, cuts, and burns. Rockstar RollOn, Entourage, and Rockstar Woman add CBD-rich, full-spectrum hemp oil to the mix, FDA compliant and safe for anyone to use. It's also vegan, toxin and cruelty-free."
Emilie Heathe at New York Indie Beauty Expo 2019
Emily Heathe's career began at Avon and MAC Cosmetics. An MBA from Columbia University led to consulting for Bobbi Brown. She launched her luxury beauty brand EMILIE HEATHE in 2017. The tres chic cosmetics brand focuses on using only top-quality ingredients with no additives, no formaldehyde, no synthetic fragrances, no phthalates, and no sulfates. The packaging is  Ultra luxe.
 Robyn McLean Girl Boss/ The Hello Cup
Hailing from Down Under (no pun intended), The Hello Cup was a launched by registered nurses Mary Bond and Robyn McLean. Inferior quality of the menstrual cups on the market-led them to design theirs to be free from silicone, rubber, latex, BPAs, made from the highest quality and to be recyclable. The Hello Cups international following describes it as the "most comfortable" menstrual cup on the market. Each Hello Cup will last at least five years.
Barbara Brock Founder and CEO BEAUTY & THE BOX at New York Indie Beauty Expo 2019
Lyn Leigh of the Perfume Plume and a Team Member of BEAUTY & THE BOX introduced me to Barbara Brock, Founder, and CEO. The Traveller is meant for the traveling woman. They are pop-up organizers that are stair-stepped boxes that hold mascaras, pencils, brushes, and lipsticks. It fits into a base which fits into a go-anywhere tray, so makeup won't teeter or fall over. They also have additional room on the tray which holds lotions, foundations, eye palettes and more.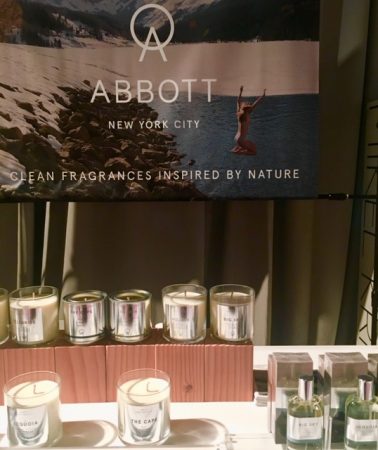 Abbott NYC Fragrance at New York Indie Beauty Expo 2019
Abbott NYC Fragrance is founded by Jose Alvarez and Michael Pass. Senior Perfumers Antoine Lieand Steven Claisse of Takasago were brought in to bring their vision to life – evocative scents inspired by unique destinations. The scents and candles are clean and sustainable fragrances that capture the essence and memories of natural places. They donate a portion of sales to charities that support the environment.
Bra in a Box
Philadelphia, PA's Bra in a Box is an innovative bra alternative that consists of two components, a pair of silicone Nipcos. Phoebe Horak, COO & Managing Partner mentioned that The Box is designed to provide storage and portability. The Nipcos provides coverage and the comfort and freedom of going braless. Made of medical-grade silicone and adhesive our Nipcos are safe, non-toxic, reusable and recyclable.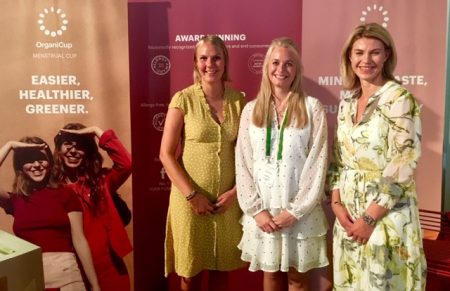 OrganiCup
At last year's Expo 2018, I met OrganiCup's Project Manager Ida Gjorup and her team and were quite impressive. They were voted 2018 'Buyers Favorite'. Founding in 2012, the Copenhagen, Denmark OrganiCup is one of the fastest-growing brands within feminine hygiene. They have been Awarded the 'Allergy Award' and 'Most Sustainable in Health and Beauty. They are Vegan Certified, FDA approved and Allergy Certified. All 100% soft medical-grade silicone free of bleach, glue, perfume, lotion or indeed anything that doesn't belong inside your body they are a leader in their sector.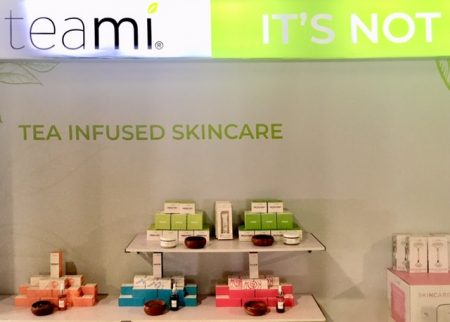 Teami
With health issues plaguing her, co-founder & CEO, Adi Arezzini went on a search for an alternative to drugs as medicine. Reading books about colon health and the negative effects accumulated toxins have on one's body she started blending her own high-quality loose leaf tea until she created the perfect formulation to help solve her own digestive issues. Florida based Teami is considered a 'detox tea' by a number of high-profile celebrities (Cardi B. loves it).
Little Butterfly London
Gudrun Wurm is such an inspiration. The genesis for her organic-certified range came with the birth of her son.  She was unable to find  products that were designed for newborns that checked her boxes, organic, safe, gentle, effective, she embraced the study of organic cosmetics. She founded Little Butterfly London, Britain's first luxury, organic-certified mother and baby skincare range. Gudrun was pleased to inform me that her award-winning brand has absolutely no mineral oil, paraffin, parabens, silicons, SLS, DEA, TEA, PEGs and artificial fragrances.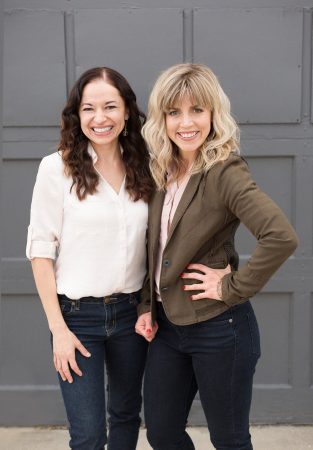 Cherie and Amber, founders of Saalt
Cherie and Amber believe the best approach to menstrual care should be just as distinct, simple, and elemental. Cherie came up with the name Saalt to represent something that is essential for our bodies, and also natural. They have partnered with charities across the world to distribute Saalt Cups and menstrual health education to areas with the most need to improve the lives of girls and women worldwide. They also commit 2% of their revenue to donate period care and help fund initiatives in education, empowerment, and sustainability. As of June 2019, Saalt was accepted into the B Corp community. Kudos!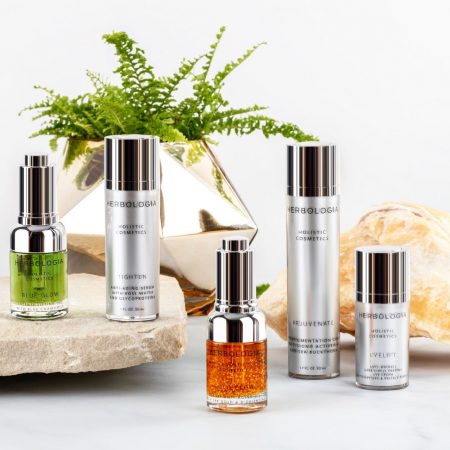 Herbologia | Holistic Cosmetics
Herbologia | Holistic Cosmetics is a luxury natural skincare brand that uses current skin science knowledge to create a new generation formulation designed for superior skin compatibility, safety, efficacy, and quality. Spring Branch, TX based Co-Founder Elena Danley states that the brand created the first-ever non-ionic cleansing formulation used in their shampoos, cleansers, and body washes which are skin-friendly, neutral, and pH-balanced. A full range of facial and hair products and skin solutions are all-encompassing.
Hernando Courtright, Senior Event Contributor and Brand Ambassador
All photos of New York Indie Beauty Expo 2019 by Hernando Courtright except Kierin NYC, Little Butterfly London, SAALT, and Herblogia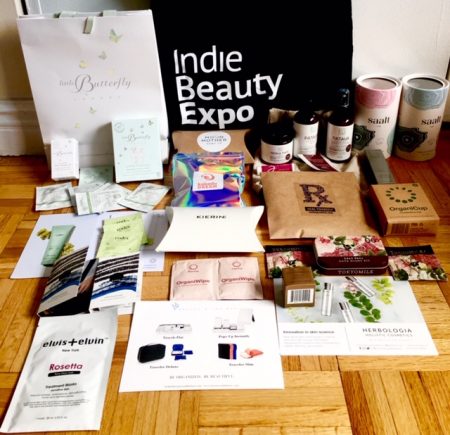 New York Indie Beauty Expo 2019 Gift Bag
Thanks to the exhibitors at New York Indie Beauty Expo 2019 who contributed to our Gift Bag. We have a Gift Bag for a registered reader in the CON USA. You MUST register. Click here. To be eligible please leave a comment with which products from our New York Indie Beauty Expo 2019 Best of Show you want to try, best trends, or what you enjoyed about Hernando's report.  Draw closes September 18, 2019.
We announce the winners only on our site and on our Facebook page, so Like ÇaFleureBon and use our Blog feed…or your dream prize will be just spilled perfume.