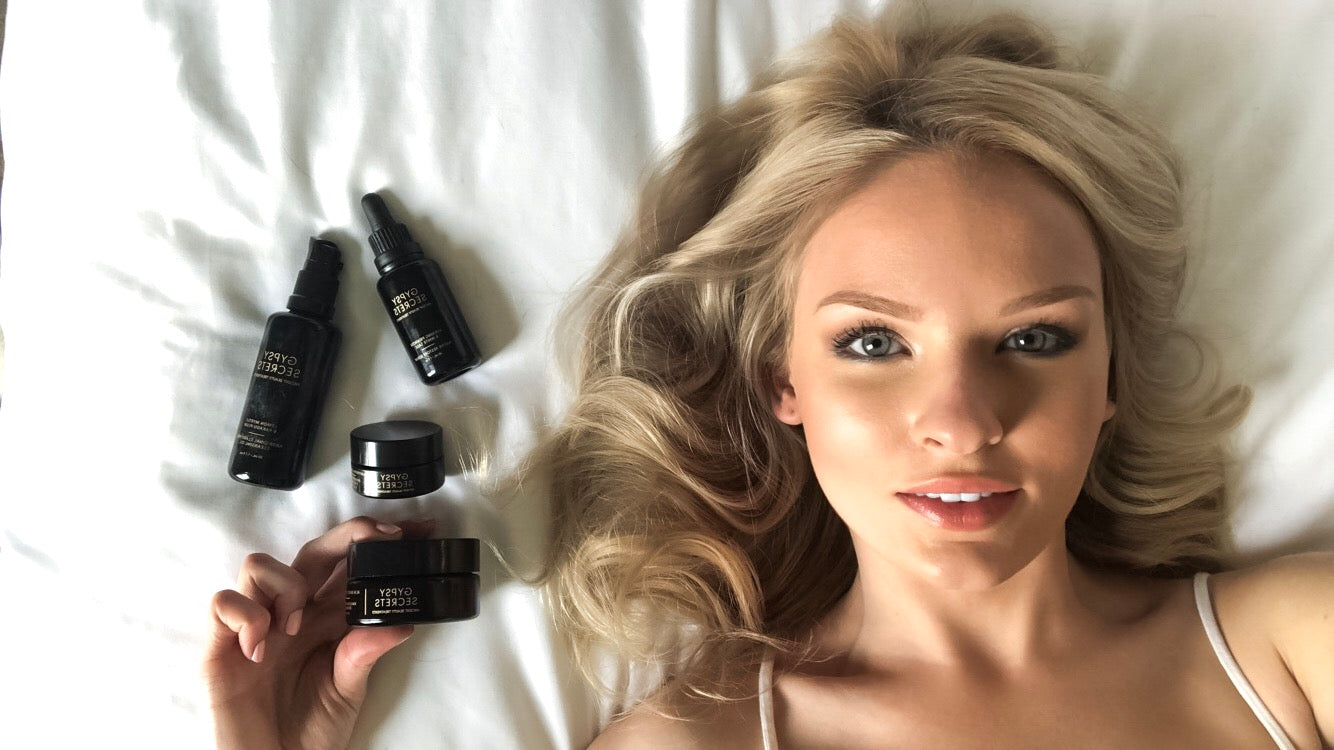 Spilling my [Gypsy] Secrets
By Michelle Saulters, Chicago Model & Blogger


Testing 1, 2, 3...

Okay guys...I'm about to get really real with you. If you know me, you know how obsessed with skincare I am. Sure, I like to try new things. But - it's to an extent. I like to stick with what I know... and more importantly, what I know will actually work. I won't lie, I've had plenty of companies reach out to me with free products in exchange for good reviews. However, when I was lucky enough to test this skincare line courtesy of Sherry, the owner and creator of Gypsy Secrets, she didn't care about the good reviews, the five star ratings, or anything like that. She wanted genuine, honest feedback on what I thought of the skincare line, and the effectiveness of it, which actually fits with what I publish on this blog. I don't like to sugarcoat things, and I'm here to give you the straight-up, honest, no BS input that you're looking for.

So, here it is... the Gypsy Secrets version.
The Gypsy Secrets Collection

First things first, I was in love with the packaging. From the background design, to the color scheme, to the tarot card in thrown in... loved it. This cute little box was filled with Gypsy Secrets' complete collection, otherwise known as The Ritual, which features their Aboriginal Clarifying Cleansing Oil, the Persian Renew Eye Cream, a Native Restore Serum, and the Amazonian Super C Repair Balm. Each of their products are packed with exotic ingredients that are full of nutrients. The natural, plant based skincare line also upholds a Plastic-Free Promise by packaging all products in ultraviolet glass containers. Not only does this benefit our environment, but it also enhances the potency of the ingredients by shielding them from natural light, which is harmful to them.
The Final Favorites
Persian Renew Eye Cream

Being only 22 years old, I'm at that age where I don't have "wrinkles" BUT... I did discover a little tiny fine line under my eye that really only shows up after wearing make up all day. Naturally, I freaked out. (LOL) That being said, one product that I couldn't quite nail down is eye cream. Or eye serum. Or eye oil. Yes, I've tried them all. Gypsy Secrets' Persian Renew Eye Cream blew my mind. A key ingredient is Saffron - a spice that Ancient Persians used daily for bathing, medicinal purposes, and skin treatments. It enhances skin tone and erased dark circles under the eye, due to the Crocin and Crocetin antioxidants in Saffron that soften, tone, brighten, and reduce the appearance of wrinkle lines. It's like the magic eraser of skincare.
Native Restore Serum
Three words: Holy. Freaking. Grail.
You guys - right at about the beginning of January is when I started to notice how dry and dehydrated my skin looked (Chicago winters, ha!) Through research, I learned that the biggest mistake to be made with dry skin is over moisturizing. I know - it doesn't even sound right. But most of the time what your skin is really looking for is hydration. Yes, I drink a lot of water, but sometimes your skin needs an extra boost here in the midwest. This serum actually contains 17 different botanical oils and extracts (used by Native American tribes for centuries) that effectively that cleanse, clear, hydrate, and calm your skin while regulating sebum production. The calming aspect was a huge plus for my sensitive redness-prone skin. One of two key ingredients in this formula is the Evening Primrose, which actually has a rare Omega-6 fatty acid that helps treat wounds while enhancing your epidermal skin barrier. It's anti-inflammatory properties are also amazing for getting rid of or soothing signs of pimples! (Again - Holy. Freaking. Grail.) Each of the 17 ingredients in this serum all contain unique and powerful benefits that, when combined, deliver deep and intense nourishment and balance to rejuvenate and renew your skin.

"Gypsy Secrets combines my love of natural living, world cultures, ancient history and sustainability. I formulated these products to celebrate global beauty rituals while offering an organic and holistic line that achieves results. With the understanding of just how much we are affected by what we put in and on our bodies, I've chosen some of the most nutrient-rich, exotic, luxurious, and potent organic ingredients that literally feed and nourish the skin."

-Sherry, Founder of Gypsy Secrets, Our Story: Note from the Founder
Special Thanks to Sherry
I cannot thank Sherry enough for providing these amazing products to test out. I can tell you that one of the products has already moved up the ladder into my everyday skincare regimen. (cough, cough... Persian Renew Eye Cream) ((#1 fan over here)) But anyways, If you've made it to the end of this post, thank you so much for reading, and I hope you found interest here! I'd love to hear your thoughts. Leave a comment for me to read down below! :)

See ya later

x


https://www.michellesaulters.com/post/spilling-my-gypsy-secrets
**Honest reviews given in exchange for free products