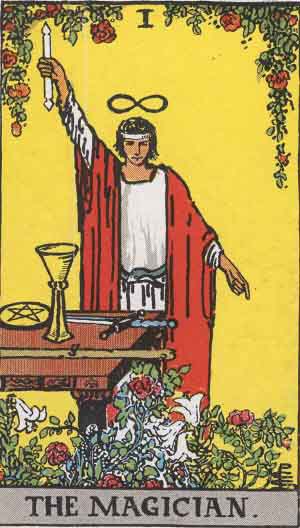 Symbolism
The Magician card is numbered One – the number of new beginnings and opportunities – and associates with the planet of Mercury. He stands with one arm stretched upwards towards the Universe, and the other pointing down to the earth. His positioning represents his connection between the spiritual realms and the material realms. The Magician uses this relationship to create and manifest his goals in the physical realm. He is the conduit that converts energy into matter. The Magician's robe is white, symbolizing purity, and his cloak is red, representing worldly experience and knowledge.
On the table in front of him are the four symbols of the Tarot suits – a cup, pentacle, sword and wand – each symbolizing one of the four elements – water, earth, air and fire. It is also a sign that he has all the tools (and elements) he needs to manifest his intentions into being. Above his head is the infinity symbol, and around his waist is a snake biting its own tail – both of which signal that he has access to unlimited potential. And in the foreground is an array of foliage and flowers, symbolizing the blossoming and fruition of his ideas and aspirations.
Meanings
As a master manifestor, the Magician brings you the tools, resources and energy you need to make your dreams come true. Seriously, everything you need right now is at your fingertips. You have the spiritual (fire), physical (earth), mental (air) and emotional (water) resources to manifest your desires. And when you combine them with the energy of the spiritual and earthly realms, you will become a manifestation powerhouse! The key is to bring these tools together synergistically so that the impact of what you create is greater than the separate parts. This is alchemy at its best!
Now is the perfect time to move forward on an idea that you recently conceived. The seed of potential has sprouted, and you are being called to take action and bring your intention to fruition. The skills, knowledge and capabilities you have gathered along your life path have led you to where you are now, and whether or not you know it, you are ready to turn your ideas into reality.
In your quest to manifest your goals, you must establish a clear vision of what you will create (and why) before you act. It is not enough to be motivated by ego (money, status, or fame) – you need to have a soul connection to your goals and intentions. You are a powerful, creative being, and this is your opportunity to bring your Higher Self in alignment with your day-to-day actions to create the future you want most.
When you are clear about your 'what' and your 'why', the Magician calls on you to take inspired action. You will need focused attention and intense concentration to bring your goals to fruition. Focus on the ONE thing that will move you towards your goal. Commitment to the task is essential, so drop any distractions that may draw your focus away from what you want to achieve. Be methodical in your planning to make sure that you stay on track and carry out your tasks.