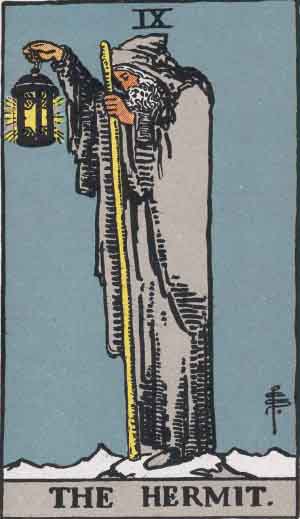 Symbolism
The Hermit stands alone on the top of a mountain. The snow-capped range symbolizes his spiritual mastery, growth and accomplishment. He has chosen this path of self-discovery and, as a result, has reached a heightened state of awareness.
In his right hand, he holds a lantern with a six-pointed star inside; it is the Seal of Solomon, a symbol of wisdom. As the Hermit walks his path, the lamp lights his way – but it only illuminates his next few steps rather than the full journey. He must step forward to see where to go next, knowing that not everything will be revealed at once. In his left hand, the side of the subconscious mind, the Hermit holds a long staff (a sign of his power and authority), which he uses to guide and balance him.
Meanings
The Hermit shows that you are taking a break from everyday life to draw your energy and attention inward and find the answers you seek, deep within your soul. You realize that your most profound sense of truth and knowledge is within yourself and not in the distractions of the outside world. You leave behind the mundane to set off on a journey of self-discovery, led only by your inner wisdom and guiding light. Now is the perfect time to go on a weekend retreat or sacred pilgrimage, anything in which you can contemplate your motivations, personal values and principles, and get closer to your authentic self.
The Hermit invites you to retreat into your private world and experience a deep sense of seclusion and introspection. You know that you need to take this journey alone or with a small, intimate group of spiritually minded people. When you allow yourself to tune in to your inner, guiding light, you will hear the answers you need and grow wise beyond your years. Find your light, shine it on your soul and create your unique path. You will see what lies ahead of you – not miles upon miles, but enough to know where to step next. From there, take one step at a time.
The Hermit often appears when you are at a pivotal point in your life and considering a new direction. Through meditation, contemplation, and self-examination, you may begin to re-evaluate your personal goals and change your overall course. You will look at your life with a deeper, more spiritual understanding and a few of your priorities will change as a result.
The Hermit also represents the desire to turn away from a consumerist or materialistic society to focus on your inner world. Have you ever seen (or read) Into the Wild? After graduating from university, top student and athlete Christopher McCandless abandons his possessions, gives his entire $24,000 savings account to charity and hitchhikes to Alaska to live in the wilderness alone. Whilst his story has a tragic ending, his journey into the wild was like that of the Hermit, who seeks answers within and knows they will come only with quiet and solitude.
Finally, the Hermit may appear in your life as a spiritual mentor here to raise your vibration and enhance your consciousness. The beauty of this mentor is that, while he may be an expert in his own right, he will teach you how to find your answers within you.