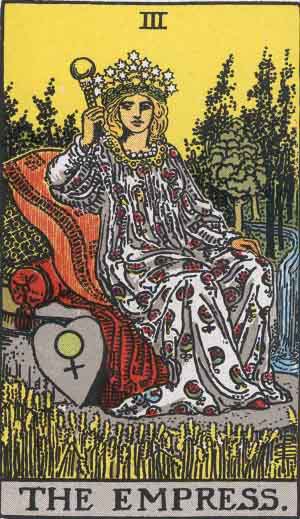 Symbolism
The Empress is a beautiful, full-figured woman with blonde hair and a peaceful aura about her. On her head, she wears a crown of twelve stars, showing her connection with the mystical realm and the cycles of the natural world (the twelve months of the year and the twelve planets). Her robe is patterned with pomegranates, symbolic of fertility, and sits upon a luxurious array of cushions and flowing red velvet. One cushion features the symbol of Venus, the planet of love, creativity, fertility, beauty and grace – the essence of the Empress.
A beautiful, lush forest and winding stream surround the Empress, signifying her connection with Mother Earth and life itself. She draws her sense of peace from the trees and the water and is rejuvenated by the energy of nature. In the foreground, golden wheat springs from the soil, reflecting abundance from a recent harvest.
Meanings
The Empress signifies a strong connection with our femininity. Femininity translates in many ways – elegance, sensuality, fertility, creative expression, nurturing – and is necessary for creating balance in both men and women. The Empress calls on you to connect with your feminine energy. Create beauty in your life. Connect with your senses through taste, touch, sound, smell and sight. Draw on these senses to experience pleasure and deep fulfilment. Treat yourself to a day spa, learn massage, enjoy a fine restaurant or spend more time with your partner. Discover different approaches to expressing yourself creatively, be it through painting, music, drama or other art forms. This may be the perfect chance to take up a new hobby that enables you to access this part of yourself.
The Empress signifies abundance. You are surrounded by life's pleasures and luxuries and have everything you need to live a comfortable lifestyle. You are in a period of growth, in which all you have dreamed of is now coming to fruition. When the Empress appears in your Tarot readings, take a moment to reflect on the bounty that surrounds you and offer gratitude for all you have created so you can continue to build on this energy and create even more abundance in your life.
As the Mother Earth archetype, the Empress urges you to venture out into nature to ground your energy and be in flow with the earth. Take a trip to your favorite natural setting, be it a forest, beach, mountain or lake, and sit for a couple of minutes, hours or even days to breathe in the energy that surrounds you while marvelling in the beauty of your surroundings. Allow yourself the time and the space to enter a different frame of mind and receive the grounding spirit of nature into your heart and consciousness. When you do this, you can reach higher planes of consciousness.
When you are in tune with the energy of the Empress, you will naturally take on her mothering nature. You feel a strong urge to nurture and care for others, from a place of loving compassion and support. You see it as a gift and an honour to tend to others, and in doing so you, too, receive benefit. In a more literal sense, you may step into the role of 'mother', perhaps as the mother of a newborn, caretaker of other people's children, or spending more quality time with your kids.
The Empress can also suggest pregnancy or birth. This may be an actual pregnancy or childbirth, or a metaphorical 'birth' of a new idea or project. Bring your creative ideas into being by nurturing them and supporting their growth. Allow those designs and their manifestation to flow through you, acting with compassion and love.