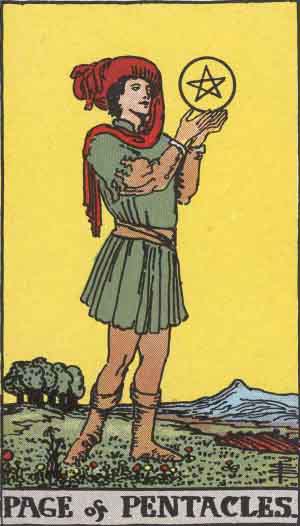 Symbolism
The Page of Pentacles depicts a young man standing in a grassy field of blooming flowers. In the distance behind him is a small patch of trees and a newly plowed field, promising an abundant harvest. The mountain range in the horizon signifies the upcoming challenges and obstacles the Page must surmount along his journey. The Page holds a gold coin in his hand and examines it carefully, as if to discover how to manifest even more gold and abundance.
Meanings
The Page of Pentacles, like the Pages of all four Tarot suits, brings a welcome message of new beginnings, inspiration and the initial stages of a creative project or venture. Since Pentacles rule the material realm and correspond to the element of earth, this Page symbolizes a burgeoning awareness of the value of money, wealth, possessions, career, and physical health, and how to manifest more of these material blessings. You welcome new opportunities to your material life – a new job, a new business, or a financial windfall – and wish to discover how to turn your dreams into reality.
When the Page of Pentacles appears in a Tarot reading, you are tapping into your ability to manifest a personal goal or dream and may be in the midst of a new project such as a hobby, business venture, or the start of a new educational experience. You are excited about the possibilities and potential of what you put your mind to, knowing you can create whatever you want with focused intention and action.
That said, this Page does not specify the fulfilment of dreams as much as the initial motivation and energy to begin the process of turning those dreams to reality. You need to put in place clear plans for achieving your dreams and goals. Stay focused on the practical and tangible elements, keeping your feet planted on the ground and not getting carried away, always looking for the next realistic and achievable step forward. Your common sense and a pragmatic approach will lead you to a solution that works.
In the quest to materialise his dreams, the Page of Pentacles is an avid student and seeks to learn the skills that will ensure his success in the long-term. The Page of Pentacles often appears when you are ready to up-level your skills and learn something new so you can manifest your dreams. See this card as an invitation to take a class, continue your education or start an apprenticeship. Even if you are already prosperous in your current field, the Page of Pentacles encourages you to try something new and discover another aspect of yourself. The more skills you bring to your portfolio, the more goals and dreams you can achieve.
The Page of Pentacles may show that you are considering a new business or entrepreneurial venture, or you are in the initial stages of setting up the company to be financially successful and abundant in the long-term. You might be new to this, but you have the enthusiasm, commitment, and devotedness to see the project through.