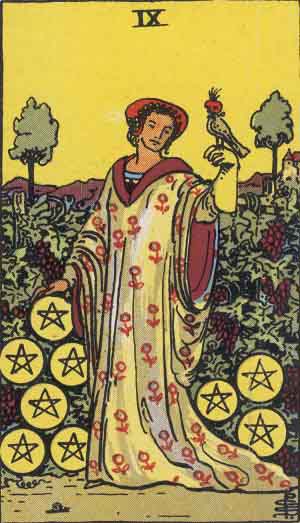 Symbolism
The Nine of Pentacles shows a well-dressed woman standing in a beautiful garden. She wears a flowing, golden robe and a red beret, signs of her wealth and social status. The vines behind her are heavy with grapes and golden coins, representing the fruitful accomplishment of all her desires. Her right hand rests upon one of the many coins, and her fingers wrap around the purple grapes on the vine, symbolizing her healthy relationship with money. She can enjoy the fruits of her labors without overdoing it. A hooded falcon sits calmly on her left hand, signifying the woman's intellectual and spiritual self-control. Far in the background is a large house, presumably belonging to the woman herself, a further signal of her abounding wealth and financial plenty.
Meanings
You have worked hard to create abundance in your life, and the Nine of Pentacles says now you can finally enjoy the fruits of your labour. Thanks to your independent efforts, self-confidence and discipline, you attained a well-deserved success and created a stable foundation for your material wealth and comfort. Now, sit back, relax and enjoy the luxuries and pleasures of the good life – money, leisure time, fun, material comfort and rest. You deserve it!
When the Nine of Pentacles appears in a Tarot reading, do not be scared to splurge, indulge or pamper yourself, especially as a reward for all of your hard work. Treat yourself to a special occasion or a personal gift to celebrate your journey here. You have already achieved so much, and while you may not be at the finish line just yet, this is your opportunity to acknowledge your achievements and re-energise yourself for the final phase.
The Nine of Pentacles also speaks of financial independence. The woman in this card has created a luxurious lifestyle by her own actions and efforts. She encourages you to do the same – to create abundance and independence so that you can take care of yourself in the long-term. Invest wisely and seek financial advice to make the most of your wealth. Don't rely on others to support you; this Nine is an independent woman.
While the suit of Pentacles typically focuses on material wealth and gain, this card also suggests that you are in harmony with the environment around you. You appreciate the beauty and abundance found in nature, and you can harness this high-vibe energy to bring pleasure into your life. You may enjoy gardening or floristry, or you may just like to pass your time in the beauty of nature with picnics or walks in the park.