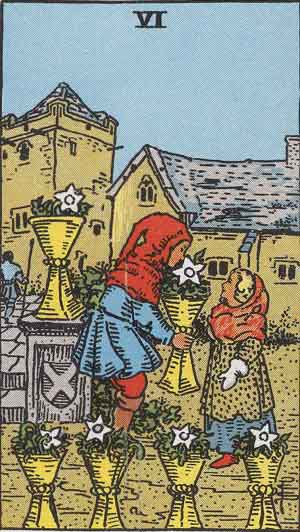 Symbolism
In the Six of Cups, a young boy leans down and passes a cup filled with flowers to a younger girl. The girl looks up to the boy with love and respect as he offers the flowers to her. Love, harmony and co-operation – all key elements of the Six of Cups – shine through this gentle act. The young children also represent childhood memories
In the background, an older man walks away in the distance, as if to say you no longer need to worry about adult issues; just enjoy the moment of being young, innocent and free again. The children also appear to be standing in the courtyard of a large home, symbolizing comfort, safety and security. In the foreground stand four more cups filled with flowers, and a fifth cup sits on a pedestal behind the boy.
Meanings
The Six of Cups is a card that takes you back to the happy memories from your past, whether as a child, teenager or young adult. You may simply be revisiting those memories in your mind, or you may travel back to your childhood home or reconnect with your childhood friends. You could go to a high school reunion or reconnect with an old buddy. A teenage sweetheart or past lover may turn up again. These connections bring you a sense of joy and happiness as you reminisce over all the fun times you had together. Take this occasion to explore whether you still have a lot in common and if you wish to continue the relationship now.
The Six of Cups often shows an increased level of harmony and cooperation in your relationships. You are ready to give and receive, without expectation. You are also willing to give each other the benefit of the doubt, having moved on from the challenging emotions of the Five of Cups. It's time to turn over a new leaf and start afresh from a more positive place.
The Six of Cups invites you to get in touch with your inner child and experience the fun, freedom and innocence that comes with being a young child again. You might like to sit down with an adult colouring book, dance like no-one is watching you, play your favourite childhood games or spend more time around (happy) children. When you give yourself permission to be playful, spontaneous, and creative, you connect more with your authentic self and your intuition.
The Six of Cups can also refer to children in your life. It can suggest a pregnancy (perhaps twins), a birth and siblings who play nicely together. It may also be a sign that you are about to spend more time with young children, playing, laughing and learning together. Children are often here to teach you something about yourself and can serve as great advisors. Kids also set good examples for how to stay present, open-minded and curious. They see the world as a magical place and their hearts are open to the myriad of pleasures available to them.