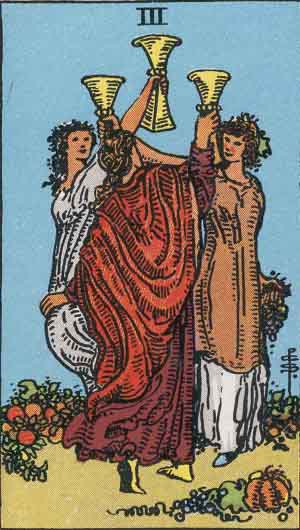 Symbolism
In the Three of Cups, three young women are dancing with each other in a circle, raising their cups high in the air in a toast of joy and celebration. They look to one another with appreciation, honor and respect, and are bound by their emotional connection and friendship. There is a sense of lifting each other up and celebrating each woman's unique contribution to the group. The ground is layered with flowers, fruit and a pumpkin, symbolizing the celebration of an abundant harvest and the goodness in life.
Meanings
The Three of Cups is a card of celebration, friendship, sisterhood, and creative collaborations. Your friends and family are here to support you and lift you up to even higher levels of success. Celebrate with them and enjoy their camaraderie.
This card reminds me of the wonderful connection shared by the four female characters in Sex and the City—Carrie, Charlotte, Samantha and Miranda. They stand by each other through thick and thin, and they are always there for one another as they make their way through relationships, careers and different life journeys. Nearly every episode shows them enjoying each other's company, often over a cosmopolitan at a swanky Manhattan restaurant. You get the feeling that these girls will be friends forever and know they can always count on each other for support and compassion.
When the Three of Cups appears in a Tarot reading, you are encouraged to gather with your closest friends and have a good time together, talking, laughing, sharing and creating. Together, you give and receive the love, support and compassion each of you needs from one another. You may be inspired to host a girls' night out, a weekend away, or start a women's circle so you can join forces with like-minded people. The energy is high, and you're here to do amazing things together.
The Three of Cups often indicates a very sociable period – perhaps a birthday, a wedding, the holiday season or a vacation with friends. See it as your opportunity to let your hair down and forget about your day-to-day commitments and obligations for a while. Instead, spend quality time with friends and family and enjoy yourself!
This card also invites you to collaborate with others on a creative project and inspire one another to reach new heights. Collectively, you are working towards a common goal for the greater good of others, and by reaching out to others and banding together, you can achieve a great deal by sharing your positive energy and passion with the wider community. The Three of Cups is a very creative card, suggesting that you may pursue a creative outlet within a group environment, such as an art class or a dance class. This is a great way to connect with others and to access your creative abilities.