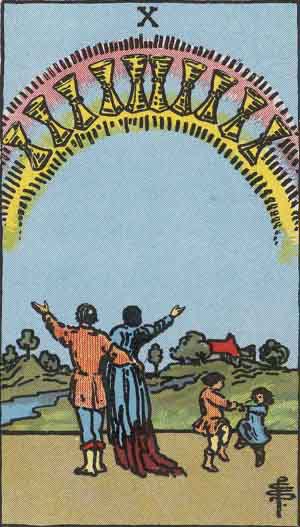 Symbolism
On the Ten of Cups, a loving couple stands together, arms outstretched, as their two children play nearby. They look towards their home on the hill and a beautiful rainbow in the sky filled with ten cups. These two have true, everlasting love and have everything they could ever wish for – the home, the kids, and most importantly, fulfilling love – and they share this bond with the people around them.
The family home symbolizes stability and comfort, while the grassy hills signify fertility and the river marks the flow of emotion. The rainbow signals the end of difficult times and is a sign from the Divine that everything will be okay. The idyllic scene is one of true emotional fulfillment and Divine love.
Meanings
The Ten of Cups embodies happiness, joy, and emotional contentment, particularly in your relationships and family. You have created an abundance of love and happiness in your life, and you now share this love with others, expanding your heart even more. This card often appears when you are surrounded by your loved ones with whom you share a powerful and deep connection. You appreciate and support one another, and together, you help each other reach your highest potential. It brings you so much joy to see your loved ones succeed and live happy lives.
The Ten of Cups is the 'happy family' card, suggesting that your family relationships are harmonious and loving right now. No one is fighting or causing any tension; all family members are getting along with each other and sharing in the love and happiness that surrounds you. This card may appear in a reading when you are spending more time with family, perhaps on a holiday, reunion or event, where you can rest and relax together, creating fun and happy family memories and strong bonds.
The Ten of Cups is a positive card for romantic relationships and may indicate either a new and blissful relationship or a long-term commitment, such as engagement, marriage or starting a family together. You share an everlasting love and may believe that you are soul mates destined to be with one another.
When the Ten of Cups pops up in a Tarot reading, you have a sense of wholeness, completion, and alignment in your relationships with others. You are experiencing an idyllic state of peace, harmony and love where your dreams and wishes have come true. Take a moment to step back and appreciate everything you accomplished. You created a life of connection and bliss by following your heart and trusting your intuition.
The Ten of Cups encourages you to follow your heart and trust your intuition to lead you to the opportunities aligned with your Highest Good. Your feelings and emotions will guide you. When something feels fantastic, do more of it; and when something doesn't feel right, do less of it. Allow your inner guidance to lead the way. Seek out opportunities that fulfill you and align with your personal values instead of following the path that others expect you to take.